The right person for your creative needs.
Reliable, flexible, team oriented, motivated and responsible.
I love it to learn, teach others and work together with people to create the stuff. Being part of a team that works together to reach a common goal is my true vision of life. So if you want to work together just reach out and we will make the most awesome stuff happening.
Quality work in the most different areas.
Media Stuff
Animation, Programming, Micro Controllers - let's combine them all and be surprised what is possible if you think outside the box.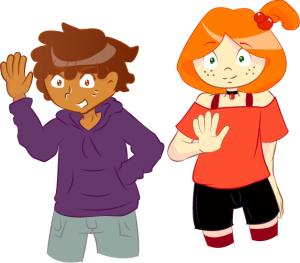 Illustration
An Illustrator on the Run, exploring the possibilities of expression. Finding her own ways to enjoy digital art and share this passion!
Organizing
Bringing organisation into chaos. Experience with managing little groups, projects, exhibitions and children workshops.
a little gaze behind the surface

Urban Sketching
Since several years I am part of the urban sketching movement, first in Linz then in Vienna. Urban Sketchers are people that meet to draw their inspiration from reality. Motives are people passing by, buildings, nature and stuff like that.
Together you look around, draw and enjoy a nice talk with other people.
Drawing in the urban space with company.
My project vanishing is finished, it was part of a bigger theoretical work about puppets. Tactile Feelings in the Uncanny Valley[german text]. I already blogged about it when there were only puppet prototypes. Now…
Portal – 28:03 min -2018 Cooperation with Cameleonix Dance Crew. Take a peak into the repressed contents of the mind and enjoy this dance of the unconciousness! Project Idea by Eva Stiasny, cinematographic version…
If you have questions or project ideas,
just contact me.